01/28/09





What is your location?

late, as usual



Comments:


Hiya, dear Alfan,
thanks for your note :-) I've sent you a mail!

---
01/28/09





What is your location?

Canada



Comments:




Hikity, next year ( 2010 ) Keith and i are heading back out east as we want to visit Wawa again and do some camping so its not so far off the beaten path, just another day or so to Toronto. So who knows, maybe we can work it out, but you best plan for July or Aug because those are the only times i get off work.......lets talk. I totally lost your e-mail as i blew my computer and had to get it re-programed so i lost all my e-mails. Can you send it to me.
---
01/16/09





What is your location?

NC



Comments:


Hi Jodi and Ann,

I also have Alan on my desktop on my notebook. I change the pictures out weekly. As you know, Ann, I have pictures of Alan all around my bedroom. I have my "mirror of love" with pictures of Alan all around the edge of a big wooden mirror that tops my dresser. That way whenever I look up from anywhere in the room, I can see that gorgeous face!!

I certainly will alert you Jodi if I hear anything about Alan heading towards LA again. I imagine he will return at some time to work on Alice, so it's just keeping taps of what the man is doing. It seems most times someone somewhere seems to know. Of course, lately he seems to be off the radar and not venturing out to be photographed in NY. I assume he has or will be in the next day or so heading back to London. It about drove me crazy thinking of him being right up in NY all that time and I could do anything to get up there to try and see him.

---
01/16/09





What is your location?

My Hateful Job



Comments:


Hi Linda and Ann!

This is the best outlet yet for a good Squeeee! I love that word. It's just what I do over him. Squeeeeeeeee



It's fun when co-workers see our desk shrine and screen savers and ask "who is that guy?" One colleague thought Alan was my brother, because of our similar silver hair and our similar noses. Lol!

Noooo, Alan is my cardboard romance. He's the man I love from afar, the man I breathe 24/7. The pictures I say goodnight to when I turn off the lights at bedtime and say good morning to when I wake up. He's the first face I see upon rising and last face I see before bed. The 2 framed Snape 8 x 10's hanging alongside the Sorcerer's Stone one sheet from my old job at WB.

Before I got here, I didn't realize there were gals like me who live AR 24/7. It's great to be part of it all.

Now, if one of you "seekers" would alert me when our prince is at a fan site in Los Angeles, I would be forever grateful, just to have him sign something from my collection.

Nomnomnomnom!
---
01/15/09





What is your location?

Alabama, USA



Comments:


Hey Jodi, and welcome Dolly! Hey Linda! I just popped over when Linda told me she was chatting with you. Sorry I've been very neglectful lately!

Yes I have Alan plastered all over my computer screen at work!! One day, back in the summer, a young woman came into my office to pull some films for a patient (I'm a medical transcriptionist) and she saw my wallpaper, which at that time was the classic pic of him in the black coat, staring straight into the camera, (you know, the one you see on Ebay with his siggie). She said "Oooohhh, who is that? Is that your husband?" Well, I couldn't resist the urge. I say "yeah, it is!" LOLOL!!!! She didn't find out the truth until around Thanksgiving!!

I live, eat, sleep, drink, dream, LOVE Alan Rickman. I do have the pen Alan signed my autograph with, and when I got hold of it, I rubbed it against my cheek and dreamed.....

It's in a shadowbox type frame along with his autograph.

Have a great evening ladies!



---
01/15/09





What is your location?

NC



Comments:




You bet, Jodi. You can express all your love for the man. That is what a fansite should be all about!!
---
01/15/09





What is your location?

Boresville, USA



Comments:


Hey Linda!

I think many of us are truly, madly, deeply in love with him.


On a couple other sites where I am a member, I have self-portraits I've taken of myself kissing Alan's photograph. Lol! The other site members are always saying, "Oh noes, here she goes! Again." But I don't care. I love to shout it from the rooftops!


My little niece says, "Auntie, who is Alan Rickman?" When I tell her Snape, she says, "Oh, yeah! Right. Wait, you're in love with Snape????? Ewwwww!" Lol! I think she needs to see my 8x10 photograph scrapbook of him, but she'll just think he's an old guy (without the Severus acoutrements).

The great thing about this website is that I can post this every day and y'all understand exactly how I feel. I need not feel silly or embarrassed when behaving like a crazed teenager at a Jonas Brothers concert or like a squeeing teen during a Joe Jonas sighting. I can be myself. And I love it.

---
01/14/09





What is your location?

NC



Comments:


Whoa, Jodi, it looks like Dolly is another BIG Alan fan!! See, there are many of us that really truly, madly, deeply, passionately LOVE Alan Rickman. I think we should all be able to freely express our feelings when we are on a fansite for him without any concern for being scrutinized. We all have different levels of admiration and that's what makes it so wonderful. I think he has a wonderful group of truly caring fans that which to support him and wish him the very best.

I'm glad you decided to post, Dolly. We all admire and adore Alan and love to talk to others that feel the same way. He is truly one of a kind and probably one of if not the best actors of our time. I just wish Hollywood would wake up and see that and not feel threatened because of his extraordinary talents!

---
01/14/09





What is your location?

Dreary Downtown Los Angeles



Comments:


Did any of you guys order that 2009 calendar from ebay?



Gorgeous piccies of Teh Man!

Has anyone ever asked any of you [who decorate your walls with Alan at your office] who the Mystery Man is? People ask if he's my husband or boyfriend. I reply:

"From your mouth to God's ears!" Lol! Or: "I wish!!!!"


Dolly Dear, I cannot say I've been putting off housework because of our sweetheart, but...

When I get home from work, I pop in a DVD and do munch my way to sleep over the next couple hours with Alan and junk food.


I don't think finding a boyfriend would help at this point. No one can match up to him in the looks or charm department. Lol!

I'm destined for a solitary life surrounded by our guy, my classical music collection, my 2 doggies and the internet
.

If I ever found a clone (or at least someone that looked like him), that might work. Not likely.
---
01/14/09





What is your location?

Boring Office - Blargh!



Comments:


Hello Dolly! Gawd, I love saying that.


We are teh kindreds, you and I. Lol!

I, too, have ordered that Rickman pillowcase from ebay. I'm waiting for it in the mail. Hope it comes soonest. There was a problem with the order.

Can't wait to SLYTHERIN to bed with our SEXY, SINISTER, SWEET SEVERUS!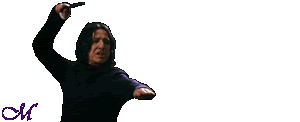 ---
01/13/09





Comments:


I get him first, Jodi! *SNORT!!*


OMG, but tell me about it. Sometimes I think I'm going insane, all I think about is Alan!!! It's taken over my whole life. My kids are sick of it (they're screaming for me to fix dinner downstairs as I type!!! LOL)
and my hubby...sigh! I think he's just NOW getting used to the Alan Rickman pillowcase I bought off EBay (yes I am a total dork!!) But how else can I sleep with TEH MAN! OMGLOL Did I just say that!


Alan has even managed to ruin my diet!!! I find myself having an AR movie marathon and stuffing my face with chips and cookies!!! I can't help myself!!!


I'm a total loser too because the house is a total pigsty! Groan! I can't be bothered to clean or dust anything!


Seriously Jodi I think you need to get a man in your life! Isn't there anyone special around that could "take some of the pressure off" as they say! ROFLMAO!!!!!


Well I better go now I can't let my family starve forever *snorfle*..HUGGLES to everyone here on this terrific forum! LOVE YA!

---
01/13/09





What is your location?

Downtown Los Angeles -- Bored and Dreamy



Comments:


Last post for today. I hope!


If anyone... ANYONE... knows of a Los Angeles/Hollywood location where Alan will be where I might find him to sign my photograph scrapbook I've made of him, PUL-LEAZE, tell me. Immediately.

An autograph, a hug, anything. Dolly, you've met him. You still have the pen he touched! ZOMG!!

Someone out there in web-land please help me locate Alan.
---
01/13/09





What is your location?

Daydreaming at my desk about Alan as usual



Comments:


Well, can I just say "HELLO DOLLY?" Lol!


Helloooo Dolly! Bada-bing, badda boom!

I'm so glad you've acknowledged my writings and share my feelings about Alan. And I'm thrilled to have found a safe place to squee about him to my heart's delight.

I don't have a husband or even a boyfriend, but I'm sure I'd bore him to death with my gushing overflow of love for Teh Man! Lol! Alan is my "Cardboard Romance." I have pictures all over the office, all over the house, all over another website I'm a member of where they're totally sick of my gushings and gooeyness over Alan.

I watch many of the films over and over again on my DVD. Several times a week. Dark Harbor is one of my favorites. I particularly like the ending, which I find incredibly hawt! HAWT, I say! Stripping, diving off the boat nekkid
and finally... well, y'all know the ending. I'm not to be the spoiler of sexy tidings. Lol!

My very favorites lately are Dark Harbor, An Awfully Big Adventure and Sweeney Todd. Those are the ones I'm watching mostly. But I mix up the collection and throw in a little Mesmer or Perfume, just to hear the music of the Classical period in the 18 Century and see Alan in those Mozartian costumes and wigs. Yumz!


Now, in Truly, Madly, Deeply, I cried along with his widow. I cried throughout the whole thing actually. Feeling her pain and sorrow for the loss of him.

Here I am, approaching 55, and becoming more and more the crazy squeeing Rickman fan -- just like the little girls screeching and fainting over the Jonas Bros. The only reason I know about these guys (Jo Bros.) is because my brother is their creative director, so I've seen much footage of their 3D film with girls literally blacking out over these boys, much like we carried on in the '60s over the Beatles.

I love this board. It gives me the opportunity to get all this Alan stuff out of my system without looking like a total fool on other websites or God forbid, in my real life. Heh.



I really do!





---
01/13/09





What is your location?

At my boring job, wearing my "casting director" hat. Lol!



Comments:


I'm sure you all know this already, and as usual I'm late to the party.

I've been perusing the IMDB and came to a link where a future Tim Burton/Johnny Depp project will be "Dark Shadows," based on the 1960s soap opera, of which I was a great fan in high school.

If Susie Figgis (or whomever) is doing the casting, there MUST be a place for our dear fellow. It couldn't possibly be done without him. Alan is a "must-have" to the success of any Tim Burton, IMHO.

I'd most certainly cast Alan in the role of Roger Collins (who was also Joshua Collins and Edward Collins in the various historic time zones, which peppered the popular Gothic series).

I would also have Alan do many of the introductory voiceovers. How could this idea not be spot on?

Roger Collins was played by the actor Louis Edmonds, who would have been in his late '50, early '60s during the time Dark Shadows was created. Perfect character age for Alan.

With Johnny Depp as Barnabus Collins and directed by Burton, the "icing on the cake" would be our hero cast as Roger Collins, the cousin of Barnabus Collins, who played a major role in the series and lived in Collinwood.

Just a thought.

If Susie Figgis is to be casting director, I'm hoping she gets to read this post or the post falls into the proper hands should the Depp/Burton project get underway.

---
01/13/09





What is your location?

In love!



Comments:


Hello to all of my fellow Alan addicts! I've been lurking and finally have the courage to post. Jodi, your posts could have been written by me! I feel the same way about Alan as you do. I'm truly, madly, deeply in love with Teh Man! I have been ever since I first saw him in Harry Potter. Then I had to find out more about him and when I saw him without Snape's wig .... This was me:


He is so beautiful, it makes my mind and my heart do funny things!

Words can't express how much I love Alan. I think about him 24/7. My husband is starting to get fed up with how much time I'm spending online looking at pictures of Alan, or in front of the TV watching his movies over and over. I can't decide who I love more -- Snape, Colonel Brandon or Jamie. Then there's Dark Harbor -- Jodi have you seen that one????



Anyway, I told Teh Hubs that I have no intention of giving up Alan for him. Or maybe I'll tell him I have, but he'll never know what I'm really dreaming about!


Jodi, I hope you get to meet Alan one day. I met him last year and it was more wonderful than I could have imagined. I have the pen he used to sign his name with. I wish I could get his DNA off of it!


Well, have to go pick up the rugrats from school now...


Bye for now!

---
01/12/09





What is your location?

Los Angeles



Comments:


ZOMG! I just saw the new digs Alan is moving to.

Wish I could be living there with him. I love New York. And Alan, of course.

Only in my fantasy life. *sigh*
---
01/06/09





What is your location?

L.A.



Comments:


Linda:

OMG! If I saw him in person, I'd probably faint. Just like those little girls screaming at Jonas Brothers concerts. Lol!










---
01/05/09





What is your location?

USA



Comments:


Well, maybe some day you will get the chance. Just watch for the next time he is in LA. Maybe for a premeire of some function you can attend. The nearest place to me is NY, however, it is still about 10 hours away. I wanted to see him when he was in Pelham for the showing and question and answer with Bottle Shock, but I just didn't have the funds nor did my health permit it at the time. Ann did know a couple of people who went and talked to them by cell phone while they were standing next to Alan. She was able to get an autograph made out to her by Alan. We were both terribly disappointed not to be able to get to Pelham, but it was just too far away. It is frustrating to know he is just up in NY and I can't get up there. I use to live in Delaware and we use to go up to NY fairly frequently. I wish I still lived close by and I would have been in Pelham for sure.

I just hope someday I will get the opportunity to meet him and tell him how much his work has meant to me and brought me so much enjoyment through the years. Plus I want to see how tall he really is. He is suppose to be 6'1", but some folks who have met him say they believe he is taller than that as they were 5'10" and still had to look up to him even with one inch heels on.

---
01/05/09





What is your location?

L.A.



Comments:


Linda and Ann:

I'm so glad there are others out there like me.

I wish I could meet him in person as well. I just don't know where and when that would happen.

My brother is in the entertainment industry and travels a lot on business and was recently in London. I told him "If you meet Alan Rickman, please have him autograph something for me." He just laughed. Lol. He said London is a huge city, and what an insane request. Looking for a needle in a haystack.

I know Alan has been nearby (in Los Angeles) because he's doing some voiceover work at MGM in Culver City for his Caterpillar role in Tim Burton's Alice in Wonderland. ~sigh~

I dreamed about him this past weekend as well. The dream was very real and very vivid.
------> I'm blushing!

Just one chance to hug him. To wrap my arms around him. Wow!

Soooo, if I ever find out I have a terminal illness (God forbid), I'll put it out here on the boards to call the Make A Wish Foundation for me and have Alan come to my bedside as my dying wish.

Gawd, I'm soooooooo dramatic!
<---- this is me in the office cube, writing you to and daydreaming about loving Alan.

Did anyone purchase that 2009 calendar with Alan's pictures? I have it on my desk at the office. Everyone wants to know who the "mystery man" is. Lol!

Happy New Year everyone!

---
12/30/08





What is your location?

USA



Comments:


Jodi,

Ann and I are friends and we are both as big a Alan fans as one can be. I do believe that you can love someone without knowing them intimately. I base my feelings for him more on hours of watching interviews and what he says, how he says it and his body language. That can tell you alot about a person. I am not in love with Alan the "actor," but with Alan Rickman, the man. I adore many of his characters (especially Col. Brandon and Jamie), but my love and fantasies are for the man himself.

I hope someday to have the opportunity to meet him. To be able to look into those soulfull, beautiful, sexy and liquid eyes of his would be a dream come true. To hear his voice in person would make me tremble for sure.

So, yes, there are others just like you that "love" Alan very much. I think some are just hesitant to say so. I don't know why cause what could be bad about saying you love someone!!

---
12/30/08





What is your location?

Alabama, USA



Comments:


I know, Jodi. I asked myself if I was crazy when I realized I was IN LOVE with a man who does not and probably never will know I exist, but alas, it is true: He is the man of my dreams, my lover, my friend, my companion, and my constant source of dreams - all in my mind.

I almost met him this past summer. Several of my friends did. They got his autograph for me, and I have it hanging on my bedroom wall, along with a picture of him from the night he gave it. I treasure it!!!

I am determined to meet him someday. I don't know how, when, or where, but I will!

Have a great evening! Happy Alan dreams.

Ann

---
12/30/08





What is your location?

L.A.



Comments:


Linda and Ann:

Thanks to both of you for your warm welcomes.

I refer to Alan as "My Cardboard Romance."

I made a scrapbook of 8x10 photographs of Alan that I purchase from various places on the internet. He's looking so great lately! Almost all silver. He wears it well. Yumz!



I've been watching Sweeney Todd a lot. I love his little duet "Pretty Women" with Johnny Depp.

Gertrude Stein has a famous quote: "It is very easy to love alone." Boy can I ever relate. I'm truly, madly, deeply in love with a man I never met and who has never met me. But it's love!


Think about some of those films where he is shunned by women -- Sweeney Todd (shunned by Joanna), An Awfully Big Adventure (shunned by Stella). What are these ladies thinking? If he were attracted to me, I'd jump his bones in a heartbeat.

This site allows me to voice my fantasies to people who totally understand. No one else could possibly live and breathe Alan Rickman 24/7 like many of us do.

---
12/30/08
Comments:
* * ** * ** * ** * ** * ** * ** * ** * * * * * * ** * ** * ** * ** * *
Coming soon... just about anywhere....
---
12/29/08





What is your location?

NC



Comments:


Jodi,

I have been a huge Alan fan since I saw him burst onto the scene in Die Hard. I have the utmost admiration and respect for this talented man. I also love and adore him and just the thought of him brings a smile to my face. I, too, like many other folks, dream of being with him. I dream of being able to look into his eyes and feel the tenderness of his touch. You are definitely not alone in your dreams of Alan Rickman. I have also made benign remarks about "loving" Alan on other sites and been attacked for using the word "love." It appears that this site is a very Alan lover friendly site and I wanted you to know that you are not alone in your feelings.

---
12/29/08





What is your location?

USA



Comments:




Jodi, bless your heart, you are not alone. I have been in love with Alan for a long time now. He has seen me through some real hell in the past few years, and he is the subject of all my dreams and fantasies. I have also been criticized on other groups for my love for Alan. I understand completely how you feel.
---
12/29/08





What is your location?

Los Angeles



Comments:


http://www.slashfilm.com/wp/wp-content/images/alanrickmanalice.jpg


I'm excited about this!

Happy New Year everyone!

---
12/24/08





What is your location?

Massachusetts USA



Comments:


MERRY CHRISTMAS everyone! Enjoy the festivities. Hope everyone gets what they asked for. May we all enjoy another fun AR year here talking about the man..



---
12/16/08





What is your location?

Los Angeles



Comments:


Hey Pam!

Apt. in New York. Cool! I lived there for 22 years of my life.

Heard he was out here on December 5 for 2 reasons. To promote "Nobel Son" and he was at MGM in Culver City doing the caterpillar voice for Tim Burton's upcoming "Alice in Wonderland." So near and yet so far. ~sighs~

Apparently he was staying in the Hollywood area and was very impressed with that part of town, for the fact that he said he felt as if he were "touching old Hollywood" -- the Hollywood of the '20s and '30s.

Honestly, if I saw him in person accidentally, I'd have to run away so I could scream like a teenager at a boys' band rock concert. Lol!

---
12/16/08





What is your location?

Massachusetts



Comments:


Hi Jodi and Merry Christmas!
Go over to main page on this site. The ladies are talking about Alan apartment buying in New York!!!! (screams) Imagine??? He is getting closer all the time..
Off to work-will write more later-have a good day


---
12/11/08





What is your location?

Los Angeles



Comments:


Hey everyone! Real life and the impending holidays has kept me away for quite some time. I hope everyone has an enjoyable holiday season.

Remember when AR was filming Snowcake and he made several references to enjoying the local specialty, butter tarts? Well I've often wondered just what the heck is a butter tart anyway? Well I finally found a recipe that definitely illustrates why they are so tasty. Ummm-mmmh....butter and lard....woooo-hoooo! Holy heart-attack, batman! You wouldn't want to eat too many of those babies. But an indulgence once in a while is o.k....especially for teh man.

Well, off to do some wrapping and decorating.
---
12/09/08





What is your location?

Los Angeles



Comments:




"Embrace me, my sweet embraceable you

Embrace me, you irreplaceable you

Just one look at you

My heart grew tipsy in me

You and you alone

Bring out the Gypsy in me

I love all the many charms about you

Above all, I want these arms about you...

~

George Gershwin

I dedicate these lyrics to my love obsession, Alan Rickman.

Gershwin penned this one perfectly.
---
12/04/08





What is your location?

Los Angeles



What is the URL of your HomePage? (include "http://")

http://www.websitetoolbox.com/guestbook/flipper0828?action=sign



Comments:


All I've been thinking about today is "An Awfully Big Adventure." I cannot see that film too many times or read the Beryl Bainbridge novel too many times either for that matter.

The more I watch the film, the harder in love with Alan I fall. P.L. O'Hara with his sweet sensuality and tenderness, all wrapped up in motorcycle leathers and goggles, the "iron horseman" not unlike the great White Knight on his charger, galloping into town to protect young Stella and sweep her away.

What an amazing fantasy.

As I sit at a dull reception desk in a cold, austere, law firm, lonely and bored, the outdoors darkening with a Western winter sky, I dream of his closeness, think of classical music to adore him by. Sometimes I can almost feel him leaning close, strong warm hands, breathing into my hair. I escape to a world in my mind where he and I are alone. Maybe we dance to waltz music from the 1920s F. Scott Fitzgerald era. Maybe we tango passionately.

There's nowhere I'd rather be than in his arms, protected and loved by him.

Oh to be one of the heroines in a film. Perhaps the blind and terrified Maria Teresa in "Mesmer" or the seductive and sassy Stella, oblivious and uncaring for his romantic interest.

In the doldrums of my lousy workaday life, I escape to places I'll never go but yearn to be with AR. I dream of another time, periods long ago, ballrooms, royal courts, country fields, English manors like the one in "Close My Eyes."

"Perhaps I Dream Too Much Alone"

---
12/04/08





What is your location?

Los Angeles



What is the URL of your HomePage? (include "http://")

http://www.websitetoolbox.com/tool/gb/flipper0828



Comments:


Dear Pam:

Thanks for getting back to me. Your warm welcome was so awesome.

Well, I'm going to attempt to see Nobel Son this weekend. In between decorating the tree and wrapping gifts, I'd like to go ASAP. I was disappointed in Bottle Shock, but nothing is disappointing about looking at Alan, so every AR film is a goodie as far as I'm concerned.

Last night I watched "An Awfully Big Adventure" which may be my most favorite because he exudes such tenderness and attentiveness to Stella. I love to put myself in Stella's place in my fantasy mind. Matter of fact, I put myself in all the love interest roles in his films, especially the ones he is so loving towards.

Rasputin is amazing. The Russian dancing and music are rousing, and I love watching him whirl about in drunken glory with robust and voluptuous Soviet beauties. I would have loved to be at that party with him. And the lovemaking scene with the Tzarina -- well, what more can I say about that?



After watcing "An Awfully Big Adventure," I dreamed about him. I love dreams where I am his girlfriend/love interest. Rima is one lucky lady. If I had what she has, I could die happy. Lol!

I will be raving about Alan quite a bit here, because on some other sites I belong to, they make fun of me, as the topic of AR is not the main event. I have a blog devoted entirely to Alan Rickman with links to his tango dancing, his sonnet recital, Closet Land and many others. A lot of the posters, say, "Oh no, not her with that AR stuff again." On here I can do it without being made fun of.

---
12/03/08





What is your location?

Massachusetts



Comments:


Hi Jodi,
Welcome! Yes, this is the best place to come to and talk about AR. A lot of us also venture over to Suzannes GB-Alan Rickman GB. They also are very nice and talk about him and all his fine works. Right now on these two sites it's about his latest work Nobel son. I havent had a chance to check it out, have you?
If you haven't checked out his older film Rasputin, please do, it will be worth your while! (drool)
Again, welcome and please come back. Have a nice evening and take care. Pam


---
12/03/08





What is your location?

Los Angeles



What is the URL of your HomePage? (include "http://")

http://www.websitetoolbox.com/tool/gb/flipper0828



Comments:


I'm new to the site.

I'm madly in love with this man. It's actually an obsession.

I collect photographs of him and keep them in a scrapbook.

In my mind, he is my everything. I'm embarrassed, but this looks like a place I can come to post about him.

---
11/30/08





What is your location?

Massachusetts



Comments:


Hi guys,
I didn't think I would be back quite this soon! LOL
Take a peek over at ebay and check out the cool clock with Alans picture on it..
Imagine that on your wall??? (drool)



---
11/30/08





What is your location?

Massachusetts



Comments:


Hi Laura and Deanna,
Welcome to one of the best AR sites ever. We all understand the obsession with Alan while others don't. Come back anytime to hang out and enjoy.I love His movies Sense and Sensibility and also Rasptuing-what a performance!! If you haven't seen it, try too as I know you won't be disappointed.
Doris, please write whenever you can. I always try to answer all posts when I see them here. I love your drawings too. You are very talented with computer artwork.
I am sure a lot of us don't get answered sometimes, but perhaps someone has already answered the question? I have a lot that go unanswered, but I don't mind. When I find something AR related I post it at the main board or over here just in case someone doesn't have the information. All I can say is to keep plugging away and don't give up!
Take care and please come back. Happy Holidays.

---
11/29/08





What is your location?

Almelo, the Netherlands



Comments:


Hi Doris,

It is me again. Just like to anwer your post again, for it really sounds a little sad. My mail address is here, too, so if you feel like writing, don't hesitate. Okay? Take care. Best wishes from Miriam

---
11/29/08
Comments:
Miriam, I would love to visit you here anytime, anyday...however, my posts are never, ever, answered! Never, never, never!
Except for once in a while.
Rarely.
It's just too tiresome to be ignored with such zeal.
And all that frustration is just plain annoying.

But, don't go by me, no one else feels the same.

---
11/28/08





What is your location?

Almelo, the Netherlands



Comments:


Hi Laura,

It must be difficult to like something (or someone) and you can't share it with people you see most. I can imagine it starts annoying you. Well, this site is wonderful for all the people who visit here are fans. I have been an AR fan since 2001 (since Harry Potter) and I am not very fanatic, but I like him, too. In 2004 I met him in London and he was ever so nice. So it is nice to visit here often (I visit this site everyday) and, just like you did now, so now and then (if you feel like it) write something, too. Most of the time you get an answer. I like this site and the people here are very nice. So I hope you find some comfort here. Take care. Best wishes from Miriam.

---
11/26/08





What is your location?

Massachusetts



Comments:


HAPPY THANKSGIVING to all our American AR fans as we sit around the table tomorrow eating Turkey, stuffing, etc. and the pumpkin pie and apple pie etc. after giving thanks. Even though times are tough, the little things are the things that count most and having friends like you guys to come see on occassion really is something to be thankful for.

---
11/09/08





What is your location?

US - NC



Comments:




Well, what can I say but that I love Alan Rickman. I went to the chat room on the site but it was all empty .

---
11/05/08





What is your location?

on top of the world after watching the election returns!



Comments:


Laura, I say just be yourself and don't let what other people say bother you. If they were really your friends they would allow you the joy of your "obsession" whether they understood it or not.
---
11/04/08





Comments:


Hi guys, I'm been an Alan Rickman fan for years, but I've never posted here before.

I'm a sad Rickmaniac tonight.
My housemates think I'm strange because I have a thing for Alan Rickman, and they can't let me get on with my obsession in peace without making snide comments - what should one do to get through this?
I say that jokingly, but it really is actually starting to annoy me.

---
11/04/08





What is your location?

Massachusetts



Comments:


to every registered voter in the US and AR land!!!

Please get out there today and vote..This is an important election.
The polls open in most places at 6AM and close at 8PM. I'll cast my vote be watching all night on TV and the internet until the last ballot is counted.

have a good day all


---
11/01/08
Comments:
As an Alan Rickman fan, over the last few years, I've visited a dozen + AR pages and websites. All of them have become pleasant and now have a lot less combat. As we all have seen, there have been nasty, anonymous posts but
there have also been anonymous, helpfully encouraging, posts and even messages defending others.
I have often wondered who those fair-minded, anonymous posters were. I would thank you and consider you friends.
AR sites are the courteous, thoughtful places I (and many others) wished for. Less spam, less shouting, personal criticism.
Thanks to all who shared the burden of change.
Doris
---
10/31/08





What is your location?

Massachusetts



Comments:


Well said Doris. How true.

HAPPY HALLOWEEN everyone. Get ready for all the ghosts and Goblins tonight.
We usually have around 100 kids or so and the weather in my area is supposed to be around 60 degrees so we can sit outdoors again.yeah--we usually put our round table with the chairs on the front lawn and pass out candy when the kids come. It really adds to the evening to see them all trick or treating. My son is going to be the Joker (he doesnt go out anymore but stands in the yard-the kids love it) He also does a great Heath Ledger Joker impression..HA HA
The adults have hot coffee/tea etc. and yak and its so much fun..(I also make a yummy cranberry/orange bread to go along with it)
Have fun everyone and be safe.. Take care-toodles Pam




---
10/30/08
Comments:
It is better to be all alone
than to feel all alone with others

---
10/26/08





What is your location?

Brisbane Australia



Comments:




I love AR and am glad there are sites out there for people who have great taste in men LOL
---
10/24/08





Comments:


Doris, Claudia is on extended leave--we hope to see her back here soon.


In the meantime, she has appointed Sue and me to be temporary moderators. So far it has been a pretty easy job, but I will be more than happy to hand the reins back to her when she returns. No one can really replace our Claudia!